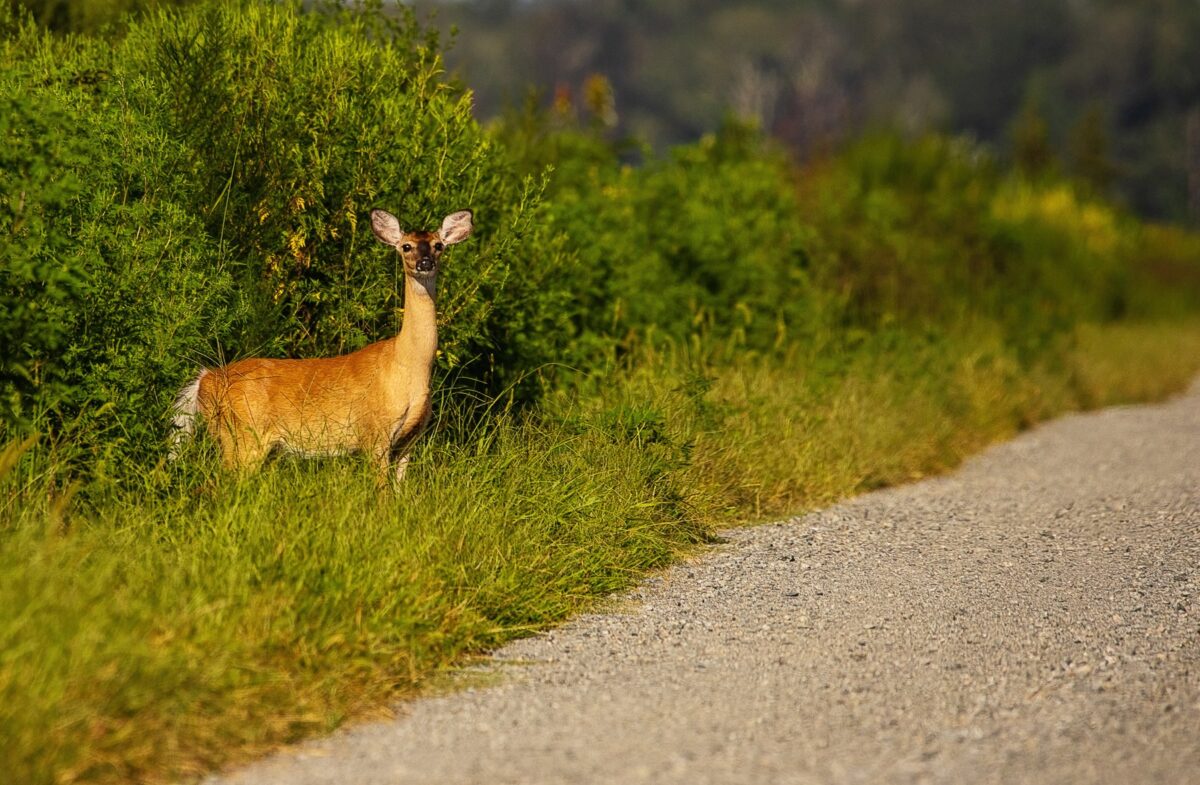 Meet the Face Behind Virginia Wildlife Corridors
For this episode of the Wild Virginia Coffee Talk Podcast we are joined by Courtney Hayes who is the new face behind preserving Virginia wildlife corridors. She is the Wild Virginia Habitat Connectivity Program Director and has worked as a zoologist and data scientist for the Office of Kentucky Nature Preserves and the Natural Resources Conservation Service, previously. Courtney is passionate about protecting wild animals, plants, and ecosystems through scientific research, good management practices, and getting people involved. She spearheads the Virginia Safe Wildlife Corridors Collaborative, a group that is connecting the corridors that support us all.
In this conversation, we highlight some exciting crossing projects in our state and others like California's newest crossing project that will be the largest in the world.
Courtney's brings a background of spotted skunk research, and her interest in the Edge Effect led her to Wild Virginia's work. She also notes that there is a low number of states that have enacted state habitat connectivity policy, but Virginia is one of them.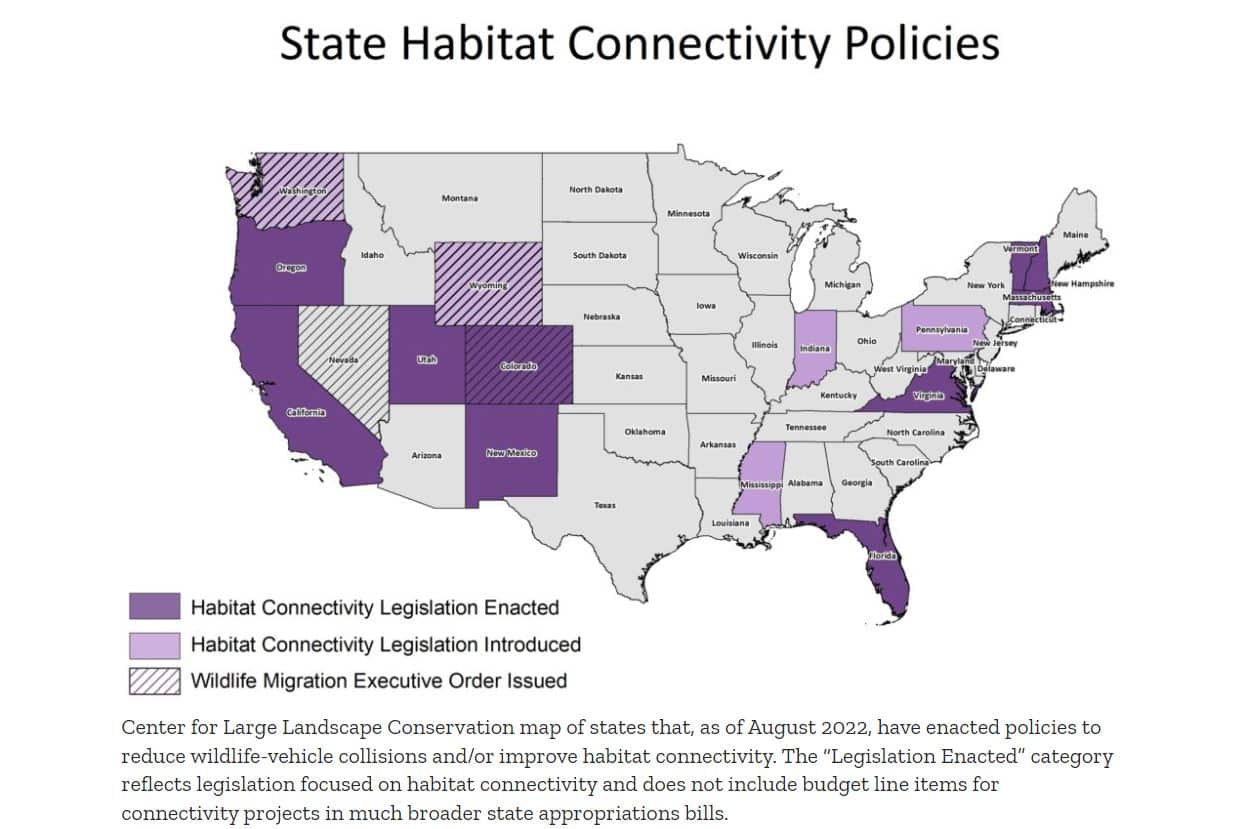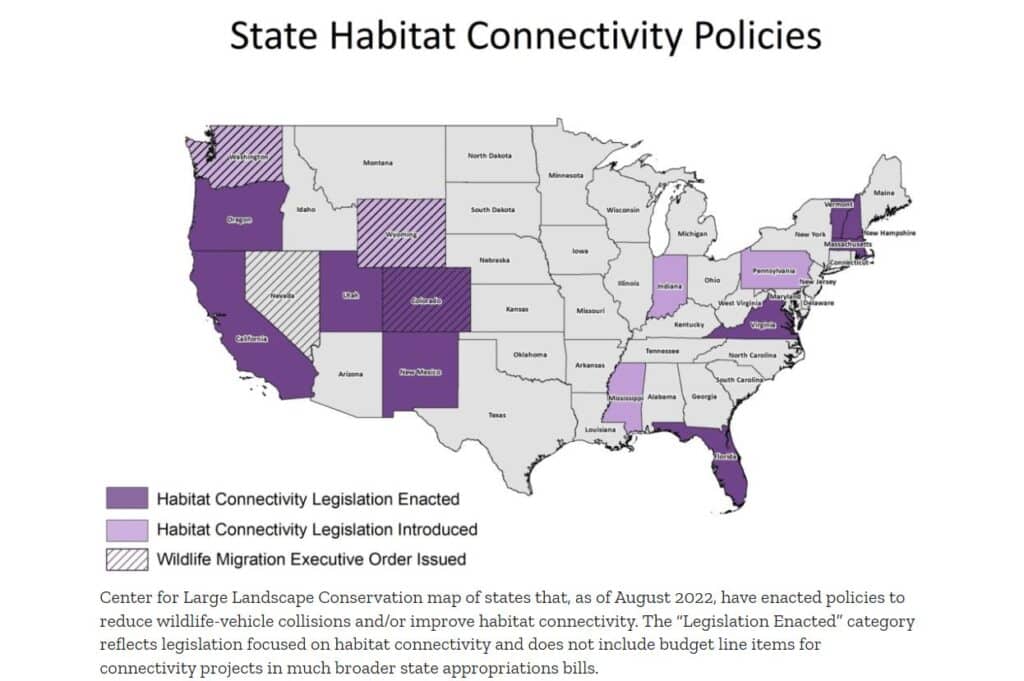 VIRGINIA'S WILDLIFE CORRIDOR ACTION PLAN
Courtney shares what her ideal vision for wildlife corridors in Virginia looks like. Virginia's first Wildlife Corridor Action Plan (WCAP) is set to be released this year. A draft plan was sent for review by Agency Directors and we should see the first ever plan, which will identify a few hotspots of wildlife vehicle collision and ecological connectivity and hopefully provide support for habitat connectivity projects in Virginia.
MODELING FROM OTHER STATES' WILDLIFE CORRIDOR WORK
How can we model from other states? California recently had a bill that addresses wildlife-vehicle collisions and they are under construction for the largest crossing in the world. Legislation allows for funding on these projects, so influencing policy makers is key.
Federal money is also up for grabs. The Bipartisan Infrastructure Law provides the basis for federal highway programs through 2026, investing $350 billion in highway programs, including the biggest dedicated bridge expenditure since the building of the Interstate Highway System.
RECENT VIRGINIA WILDLIFE CORRIDOR NEWS FROM VSWCC
VDOT's Policy and Guidelines for Wildlife Crash Countermeasures: Bridget Donaldson (Virginia Transportation Research Council) introduced a newly-adopted guidance manual and policy that provides provide planners, project managers, and traffic engineers procedures and technical guidance for deciding when and where to consider Large Animal Crash Countermeasures in the design of new projects or when evaluating ways to mitigate crashes in existing wildlife crash hot spots.
VDOT's Wildlife Carcass Removal App Pilot: Bridget Donaldson provided an update on the pilot app being tested by interstate contractors in the Culpeper and Staunton districts. This app collects spatially accurate roadkill data and provide tools for simple visualization and identification of wildlife crash hotspots.
Tracking Bobcats: Nicole Gorman (an incoming PhD student at Virginia Tech) will be starting a project involving studying bobcat movement ecology in the Albemarle County area.
Enhancing Existing Underpasses in Albemarle County: Bridget Donaldson (on behalf of Kim Biasiolli, Natural Resources Manager in Albemarle County) updated the group on ongoing monitoring occurring at underpasses along Rt. 29 in Albemarle County. This project is now looking for assistance in attaining funding to begin enhancing the existing underpasses that wildlife have been identified utilizing.
Wild Virginia's Habitat Connectivity Program & Virginia Pathways: Wild Virginia hired a new Habitat Connectivity Program Director, Courtney Hayes, to support habitat connectivity and wildlife corridor work full time. Courtney and Erin Sito (Wildlands Network) introduced the new formal joint partnership between Wild Virginia and Wildlands Network, coined Virginia Pathways, focusing on wildlife corridor work and fundraising throughout the state.
Wildlife Crossings for Elk in Southwestern Virginia: Bridget Donaldson introduced a project from VDOT and Virginia Department of Wildlife Resources looking into options to reduce elk-vehicle conflicts and promote habitat connectivity along a new road project in southwest Virginia.
Join us for this special event where we will be live streaming from the construction of the Liberty Canyon Crossing in CA!
Join Wild Virginia and Beth Pratt, California Regional Executive Director for the National Wildlife Federation and the "Mayor of the Liberty Canyon Crossing." The Liberty Canyon Wildlife Crossing, also known as the Wallis Annenberg Wildlife Crossing, will be the largest wildlife crossing in the world once construction is completed. Senator Dave Marsden, a champion for wildlife corridors in Virginia, will introduce the webinar in which we will hear the inspiring story behind the Liberty Canyon crossings and about the importance of wildlife crossings for both people and wildlife.