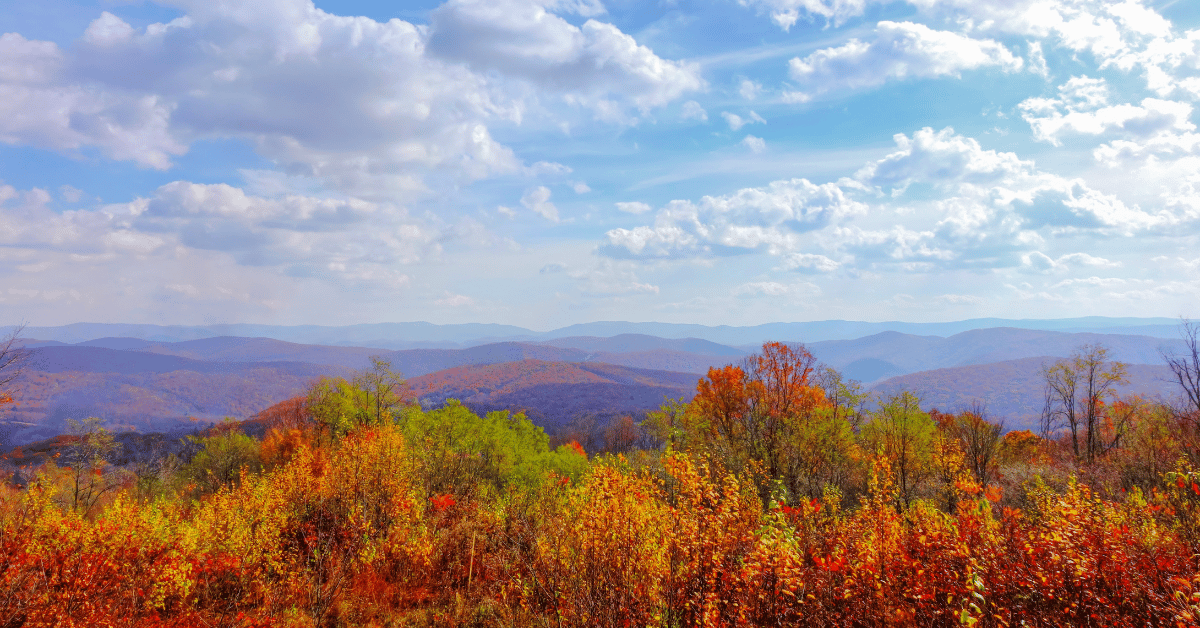 Favorite Places to Hike in Virginia this Early Fall
As we enter early fall in Virginia, and the October months that tend to be very popular along the National Forests, National Parks, and Blue Ridge Parkway, here are some sights to see and places to hike in our breathtaking state.
Virginia has one of the most gorgeous views – and being in a state that experiences four(ish) seasons, we believe the places that provide you adventure are the places you advocate for.
FAVORITE HIKES IN VIRGINIA
Sugar Hollow Reservoir: A personal favorite, this hike takes you along the Moormans River in Albemarle County. The reservoir serves as drinking water for the City of Charlottesville and has 47 acres stocked with rainbow and brook trout – just make sure you purchase your fishing license! There are a few hikes at this area located just outside of Crozet – one being Blue Hole which is 1.5 miles, and the other a 4.6-mile round trip hike to Big Branch Falls.
Humpback Rock: A fan favorite off the Appalachian Trail, this is a short, but very mighty hike on Afton Mountain (which has a few other great attractions like the Swannanoa Mansion or visiting our friends at Blue Ridge Bucha). With strategic benches along the summit, this 3,080 elevated trek has a few different trail options, most taking the 1 miler. Humpback Rock is a gigantic near Augusta and Nelson Counties that you don't want to miss this fall.
Fridley's Gap: This hike is closer to Wild Virginia's roots when we started as an organization protecting the George Washington and Jefferson National Forests. Fridley's Gap is located in the George Washington National Forest and offers great variety for the family or people of all ages. It has the babbling brooks that offer some serenity, ridge climbs offering wonderful views, and a refreshing swimming hole.
Prospector's Ridge: Deemed the "Grand Canyon of the South", you can visit the Jefferson Forest and Breaks Interstate Park to see Prospector's Ridge, views that are located in both southeastern Kentucky and southwestern Virginia. The Russell Fork River flows through these mountains, and this is a great road trip if you're looking for adventure closer to home (and the areas we're protecting close to the proposed Mountain Valley Pipeline).
Old Trail Loop: Virginia has its own little Paris…Near Winchester, VA, come uncover this 6+ mile hiking trail that is a serene forest hike, which was actually a short section of the Appalachian Trail up until 2004.
There are many other beautiful hikes / sights in Virginia not listed here. I mean, what can beat a sunset view from the top of Reddish Knob, Rag Mountain, or Mount Rogers? But we hope you enjoy one of these beautiful trails on our 2022 early fall list that we're incredibly lucky to have here in Virginia.
Interested to learn how to help protect our wild lands and waters?
Join us for one of our upcoming events! From hikes to kayak trips, from book clubs to webinars, we host a wide variety of events. We even host outings to see the impacts of industry firsthand (like on the route of the proposed pipelines). Wild Virginia helps you get out and explore with other Wild Virginians – like you. Check out our upcoming events here.