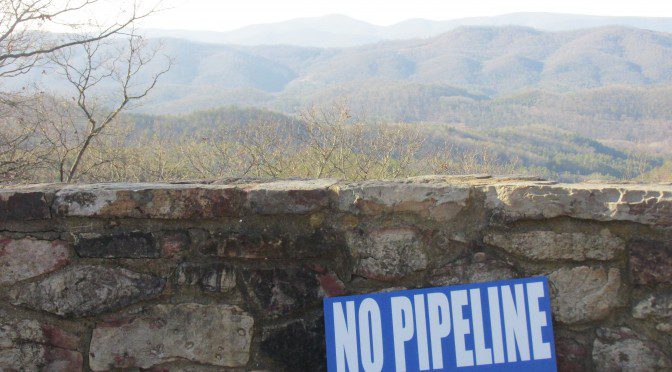 ACP Impacts: The Limperts Retirement Retreat Bulldozed
Bill and Lynn Limpert have been very active in the fight against the Atlantic Coast Pipeline, which was canceled a few weeks ago by the backers of the project. Throughout the course of its construction, the ACP impacts were felt far and wide. Wild Virginia Publicity and Outeach Director had a conversation with the couple to reflect on their experience.
"Some folks have asked if this is a bittersweet victory for us. We tell them it's a whole lot of sweet, with only a little bitter. It was a very difficult decision to sell our property. One overriding factor was knowing that if the property was taken by eminent domain, and the ACP was constructed we would have been forced to leave and never come back. We could not bear to see the destruction the pipeline would have brought to Miracle Ridge and Little Valley, or live next to the dangerous pipeline. We cannot discuss the details of the sale, but we are hoping that the property will remain as it was when we left it, wild and free. We think there is a good chance that will happen."
Hopefully this conversation will shed light on what activists and advocates of wildlife can do in the fight against the Mountain Valley Pipeline, which is still experiencing many issues.
In February of 2016, the Limperts received a notice that the new route of the pipeline would come directly through their property in Bath County, Virginia.
To challenge the project legally, they were informed that a person was required to become an intervenor.
It was resources like Lew Freeman of the Allegheny Blue Ridge Alliance that helped the couple to become intervenors. "But I didn't get much sleep the night after we got that notice," Bill said. "And I can tell you that other friends have said they haven't gotten a good night's sleep ever since they first got their notice – it's been a very tough emotional struggle for us and for, hundreds if not thousands of people."
The Limperts encourage pipeline fighters and wildlife defenders everywhere to keep fighting every step of the way. Learn as much about the process as you can, and take everything you hear from the funders of these types of projects with a grain of salt. Question all of the regulatory agencies reviews, because sometimes these entities will cave to industry demands.
Seek out and utilize the resources at your disposal. "I've been saying for number of years now that if we have adjust legal system will beat this pipeline, because the executive and legislative branches of our government have all failed." Firms such as the Southern Environmental Law Firm or Appalachian Mountain Advocates have attorneys who fight these types of issues.
As an ally of the landowners affected by pipelines, you have a voice, too. Engage in the public commenting periods that allow citizens to have a voice throughout the bureaucratic mess. Seeing the ACP impacts is frightening, but the ACP was one of many disastrous constructions.
Support and volunteer for some of the watchdog organizations that are continuing the fight for some of the voices that have been silenced.
To keep our favorite places wild, we must continue to fight oppressive entities in our capitalistic society, that only care of money and not the lives they destruct.