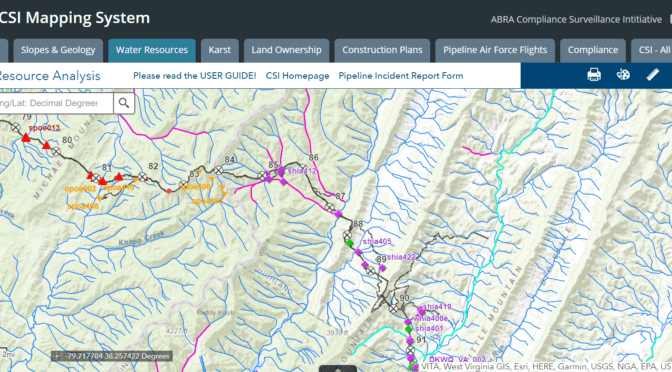 New Pipeline CSI Website Goes Live
Wild Virginia is excited to announce that the new website for Allegheny Blue Ridge Alliance's (ABRA) Compliance Surveillance Initiative (CSI) program is up and running! The purpose of the CSI is "to support citizen efforts to ensure strict application of environmental laws and regulations in the event the pipeline goes forward." Wild Virginia is a proud member of ABRA. 
The website contains information about how volunteers can become involved in the program. Furthermore, there are examples of non-compliance issues and numerous technical resources, including the unique CSI mapping system. The mapping system uses photos and images taken from planes flying over the pipeline route. Users can manipulate the map to find out more about land ownership, karst, and more along the route. Volunteer pilots who are passionate about stopping the pipeline fly the planes that gather the images.
Have Questions?
If you have any questions about the website, please direct them to: mailto:csi@abralliance.org.