The Dominion Pipeline Monitoring Coalition (DPMC), headed by retired UVA Senior Scientist Rick Webb, seeks to keep  Virginia politicians, government bodies, and Dominion on their toes concerning environmental effects of pipelines and natural gas infrastructure. To identify potential problems, DPMC runs a civilian air force that takes photographs of existing and planned infrastructure sites.
In their latest investigative effort, the DPMC uncovered that the Colombia Gas pipeline in Giles County was non-compliant with soil, water disposal, and other environmental regulations. Although the DPMC contacted the Virginia Department of Environmental Quality (DEQ) about a breach that happened in July 2015, the DEQ has yet to respond. The failure of the DEQ to implement sanctions or consequences on Columbia Gas suggests that the DEQ will overlook future mistakes and regulation oversight by Dominion during the construction and operation of the proposed Atlantic Coast Pipeline. 
Here's the press release from the DPMC:
The Dominion Pipeline Monitoring Coalition filed a complaint with the Virginia DEQ on November 11th concerning non-compliance with environmental regulations at the Columbia Gas pipeline on Peters Mountain in Giles County, Virginia.

Our complaint alleged that Columbia Gas failed to protect sensitive environmental resources, failed to comply with its own self-certified erosion and sediment control plans, and failed to prepare a stormwater management plan.

MOST NOTABLE AMONG THE PROBLEMS:  Drainage from the pipeline corridor is discharged directly into a sinkhole connected to the water supply of Peterstown, West Virginia.

A diesel-spill on the construction site contaminated the water supply system in July 2015 forcing a two and a half week shutdown and emergency reliance on water piped-in from Giles County. Surface water runoff from the pipeline corridor continues to drain into the sinkhole.

While the DEQ has not responded to our complaint, a Columbia Gas spokesman has dismissed the public-water-system-contamination incident, reportedly stating that he was not sure the situation "qualified as an event" where enforcement action by the agency was needed.

We contend that this situation represents an unacceptable public health risk, and that it would not have happened if DEQ had properly reviewed the project's erosion and sediment control and stormwater management plans and inspected the project during construction. Our complaint, however, goes beyond this immediate situation.

 

OUR COMPLAINT ILLUSTRATES ON A LOCAL SCALE WHAT WE FACE ON A REGIONAL SCALE WITH MULTIPLE PROPOSALS FOR MUCH-LARGER PIPELINES ACROSS STEEP MOUNTAINS AND KARST VALLEYS.

Our complaint is about regulatory dysfunction and official indifference in the face of environmental crisis.

We are among multiple environmental organizations and local government bodies that have petitioned the governor and other state officials to ensure meaningful DEQ oversight of pipeline projects. As with our current complaint to the DEQ, we are waiting for a response.

See the attached photo of Peterstown in relation to the Columbia Gas pipeline. More information and recent photos obtained by the Pipeline Air Force are provided on the DPMC website. See: We do the right thing: Always have.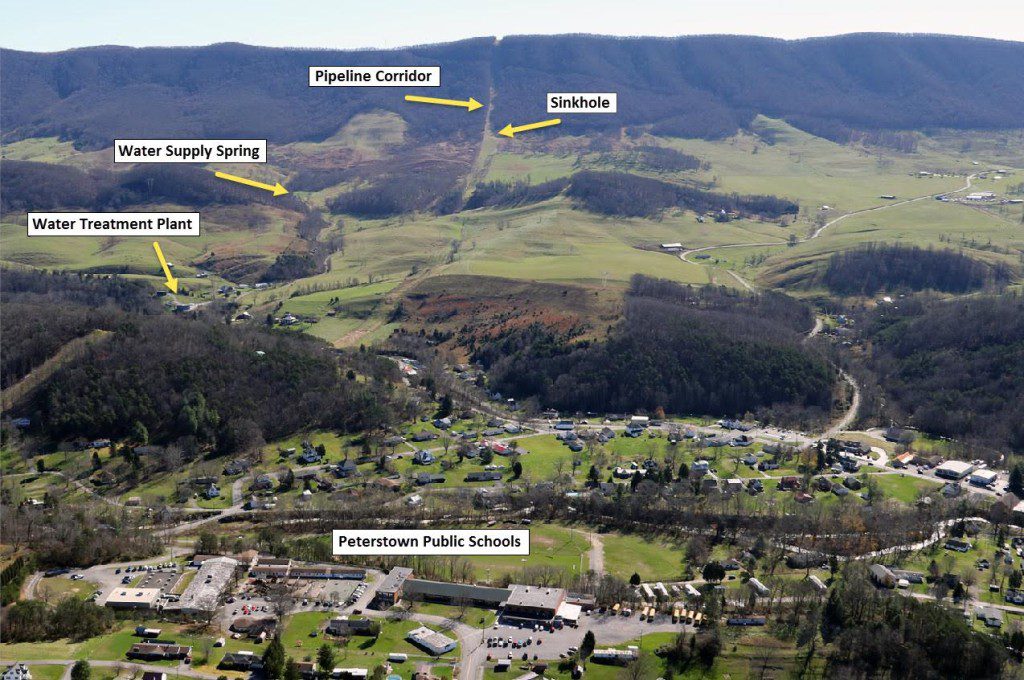 For more information or to get involved, contact: