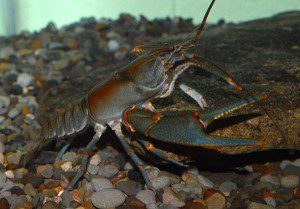 On April 6th, the U.S. Fish and Wildlife Service protected two species of crayfish in Kentucky, Virginia, and West Virginia under the Endangered Species Act.
This listing comes in response to a petition from the Center for Biological Diversity. The Big Sandy crayfish and the Guyandotte River crayfish have lost more than half of their habitat ranges due to water pollution, primarily from coal mining and the construction of highways and expressways. The protection of these crayfish under the ESA means it is now illegal for any person or corporation to harm the crayfish or their habitat and that federal agencies will need to consult with the Fish and Wildlife Services before permitting any activity that could harm the animal. Crayfish are considered a keystone animal—they create habitat used by other species, help to keep streams clean by eating decaying plant and animal matter, and are, in turn, eaten by fish, birds, and reptiles. They are a crucial link in the food and ecosystem web.
Tierra Curry, a senior scientist at the Center for Biological Diversity notes that "protecting these two crayfish under the Endangered Species Act will not only ensure their survival but will also protect streams and water quality that are important for people." The Center for Biological Diversity concludes that recent scientific studies have determined that mountaintop-removal coal mining has adverse effects on fish, crayfish, mussels, amphibians and stream insects in Appalachia and is also associated with increased risk of cancer and birth defects in humans.
This listing is one step in the right direction to begin to regain the health and integrity of our ecosystems that are depended upon by both humans and animals alike.