On Monday,  February 13th, Wild Virginia's youth outdoor education team held our first outing with the Charlottesville Parkside and Post-High School Parks and Recreation group! The unseasonably warm and sunny weather held out, and everyone was excited to get outside and play some games.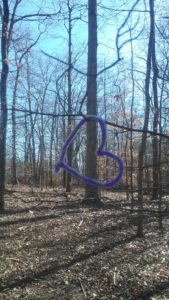 We kicked off the activities with a camouflage scavenger hunt. Volunteers hid pipe cleaners, colorful strings, and rubber snakes around a wooded path and it was up to students to find what didn't belong in the woods. We were very impressed to see how quickly students found what was hidden! Clearly camouflage was no match to their keen observation. After the scavenger hunt, students told us all the reasons that animals might use camouflage, including to hide from humans who want to find them!
After the scavenger hunt, we headed inside the Crow Recreation Center to do some arts and crafts stations. At table #1, students had to match animal figurines to their animal tracks and then trace their own tracks.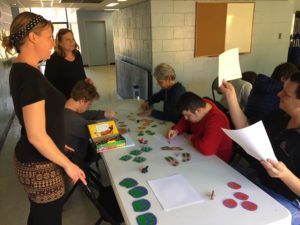 At table #2, students worked together to draw their own forest murals, being sure to include some animal tracks and camouflage where they could.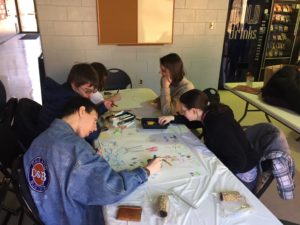 And at table #3, students made their own bird feeders using empty toilet paper rolls, soybutter, and bird seed. We had some pretty amazing artists in our group!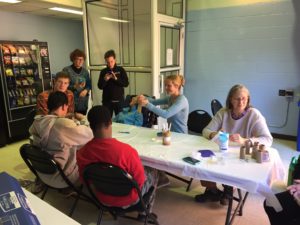 We were all disappointed that the fun had to come to an end. The Parkside and Post-High School outdoor group were enthusiastic learners and really made the afternoon one to remember. Sarah Blech, with Charlottesville City Therapeutic Parks and Rec, shared the praise from the teachers who attended:
"Wild Virginia provided our students with an imaginative, hands on, engaging class as part of our Outdoor Education series. Scavenger hunt, bird feeders, art activities—each student left with something he or she found or created—thanks Wild Virginia!"
I speak for all of the Wild Virginia volunteers when I say that we had an absolute blast and can't wait for our upcoming outing with the Oakland School.
-by Jessie Thuma, Youth Outdoor Education Organizer and Wild Virginia intern