The Wood Turtle inhabits only the northernmost region of Virginia, from the counties of Arlington and Fairfax west through Frederick County and Shenandoah County.  A protected species, given a Virginia Wildlife Action Plan rating of Tier 1 – Critical Conservation Need – Glyptemys insculpta faces many threats.
Due to continual urbanization and intense habitat destruction, the Wood Turtle's range is shrinking westward and its population numbers are falling in Virginia.  In addition to habitat fragmentation, water pollution caused by chemical runoff poisons the Wood Turtle's aquatic habitats in the Potomac and Shenandoah River Basins.  Sadly, these wonderful creatures are even the target of poaching and many are removed from the wild and placed in captivity.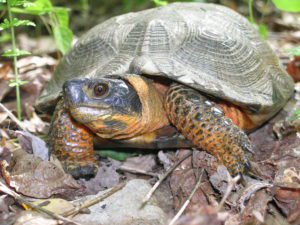 Without the aid of conscious individuals like yourselves, increased education and the spread of awareness, the Wood Turtle will soon disappear from The Old Dominion as its range and population numbers continue to diminish.  One helpful course of action is to report any sightings to The Virginia Department of Game and Inland Fisheries. There is a VDGIF regional office located in Verona, Shenandoah County.
For a great resource to learn more about the Wood Turtle and other turtles of our state, visit The Virginia Herpetological Society's website by clicking here.
Also, individuals may sign up as citizen scientists or register their land to have their property surveyed for native plants and wildlife, including the Wood Turtle, with Virginia Working Landscapes, a network convened by The Smithsonian Conservation Biology Institute (SCBI)
By: Thomas Proutt