Since our founding in 1996, Wild Virginia (then SEDG) has been a strong advocate and organizing force for Congressionally designated Wilderness Area protection.
We helped create the Priest and Three Ridges Wilderness Areas in Nelson County, Virginia in 2001. We worked with friends in the Virginia Wilderness Committee, Southern Environmental Law Center, and many more to protect permanently these beautiful places.
Wilderness Areas in the Jefferson National Forest
On March 30, 2010 President Barack Obama signed the Omnibus Public Lands Management Act of 2009 (H.R. 146), which was approved by Congress only days earlier. This was very good news for Virginians, as the long awaited Virginia Ridge and Valley Act was part of the legislation.
Roughly 53,000 additional acres in the Jefferson National Forest have now been permanently protected. Six new Wilderness Areas, one Wilderness Study Area, and additions to six existing Wilderness Areas encompass a total of 43,000 acres. Another 10,000 acres are in two newly created National Scenic Areas.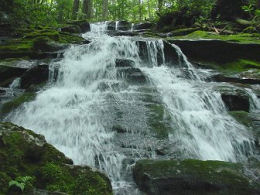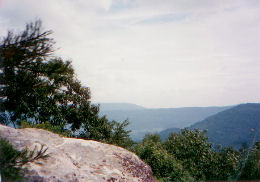 It took many years of effort by numerous groups and individuals to bring this about. Former Senator John Warner and Representative Rick Boucher have long championed the legislation. Wild Virginia has supported the Ridge and Valley Act from the beginning. We appreciate the hard work of many of our conservation partners, including Virginia Wilderness Committee, Virginia Forest Watch, Southern Environmental Law Center, and The Wilderness Society, in shepherding the bill into law.
New Wilderness Areas
Brush Mountain – 4,794 acres in Montgomery County. Near Blacksburg, it has remained remote due to its rugged, steep terrain and contains possible old-growth forest.
Brush Mountain East – 3,769 acres in Craig County. Borders the Appalachian Trail (AT) for several miles, offering some great views as it ascends & descends the mountain.
Hunting Camp Creek – 8,470 acres in Bland County. Also accessible by the AT, there are several good trout streams and many wonderful views here.
Garden Mountain – 3,291 acres in Bland County. Adjacent to Beartown Wilderness, this area borders the well known Burkes Garden. Good hiking trails, trout streams, and old-growth forest are found here.
Raccoon Branch – 4,223 acres in Smyth County. Part of Mt. Rogers National Recreation Area, rich forest and several trails with outstanding views make this area a favorite of horseback riders and many others. It is near the Hurricane and Raccoon Branch campgrounds.
Stone Mountain – 3,270 acres in Lee County. Located farther west than the other areas, it is probably the least disturbed. The remote and rugged features serve as home to several rare species of wildlife.
New Wilderness Study Area
Lynn Camp Creek – 3,226 acres in Bland County. This area is very popular with hunters and anglers, and contains possible old-growth forest.
New National Scenic Areas
Bear Creek – 5,503 acres in Smyth County. Hikers, horseback riders, and mountain bikers all enjoy this remote site. The AT provides access to a portion of the area. Old-growth stands occur here also.
Seng Mountain – 6,455 acres in Smyth County. Adjacent to Hurricane Campground and Skulls Gap Picnic Area, many people enjoy this site. The beautiful 45-foot Rowlands Creek Falls are found here.
Existing Wilderness Areas to which land was added: Shawvers Run, Mountain Lake, Peters Mountain, Kimberling Creek, Lewis Fork, Little Wilson Creek.

Map of the George Washington
National Forest Wilderness Areas.
(click to enlarge)