Wild Virginia has been working for years to raise awareness and gather public comments supporting a full ban on fracking in the George Washington National Forest to protect our forests and drinking watersheds.
This hard work, and your comments, paid off.   With the release of the new GWNF Plan in November 2014,  985,000 acres of the GWNF where it was previously possible to drill, has been made off-limits to fracking activities.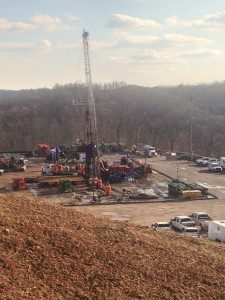 However, fracking is still allowed on 16.7 percent of the forest: 167,000 acres of existing private mineral rights and 10,000 acres already leased to oil and gas companies.
We will continue to fight fracking and other types of oil and gas drilling in Virginia's national forests on a case-by-case basis.  
Sign up for our email list to be sure you know about any proposed projects and opportunities to make your voice heard. 
As the Atlantic Coast and Mountain Valley Pipelines attempts to snake its way through our national forests transporting fracked natural gas from West Virginia,  it is a strong reminder that the impacts of fracking are still a real and present danger to our forests and watersheds.
We will continue to take citizens, media, students and elected representatives on tours to see first-hand the impacts of fracking.