Today,  the Final Environmental Impact Statement for the Mountain Valley Pipeline (MVP)  was released.
What's in it – or more importantly – what is not?
The Federal Energy Regulatory Commission (FERC) has again failed to adequately address many of the most important impacts and issues related to the Mountain Valley Pipeline.   The Draft Environmental Impact Statement (EIS) had fatal flaws that could not be fixed in this final version,  but even many of the gaps that could have (and should have) been filled in this document were not.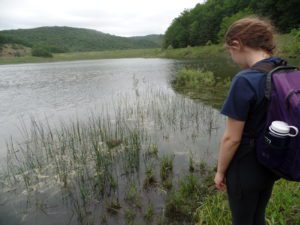 Some impacts can never be healed once they are inflicted, including forest fragmentation, loss of valuable core forest areas, and loss of watershed integrity.
Most importantly, FERC continues to avoid clearly addressing their statement that there is a basic need for the pipeline or for the gas it would transport. This makes obvious what we have known since the beginning, that this project and its potential impacts are unnecessary and lethal.

The Forest Service requires, and  has repeatedly stressed, that an alternative route, one that does not pass through  USFS system lands, be thoroughly examined.  The public expects them to hold fast to that demand. If it fails to do so, the Forest Service will betray our interests.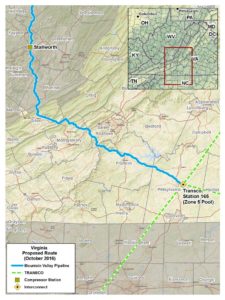 What's Next?
Wild Virginia is particularly concerned about how the Forest Service and BLM will act in light of the deficiencies. The Forest Service and BLM must refuse to adopt this EIS.   We are also calling on the Department of Environmental Quality (DEQ) to do their job and protect our water.

What can you do?
Ask the Governor to tell the DEQ to do their job:  Click Here
Stay connected with Wild Virginia's email list for updates and ways to make your voice heard: Click Here
Background
This proposed pipeline crosses the Jefferson National Forest in Giles and Montgomery Counties in Virginia and Monroe County, West Virginia. The Mountain Valley Pipeline sources the same fracked gas and has the same delivery destinations as the Atlantic Coast Pipeline.
The MVP would affect over 1,000 waterbodies and slice through the headwaters of the Roanoke River watershed, crossing through 20 surface water protection areas.
The MVP would cause irreparable damage to 41 core forest areas in Virginia and West Virginia
The MVP would impact the habitat for 23 federally recognized sensitive and rare species.
Permanent visual impacts to the Appalachian Trail would be significant and irreparable
2/3 of the MVP would cross mountains, ridges and slopes that are susceptible to landslides and major erosion.
The route passes through the Appalachian National Scenic Trail Corridor and would cross the Appalachian Trail.